Noah's Ark has little problem :)
02-26-2009, 12:31 PM
Noah's Ark has little problem :)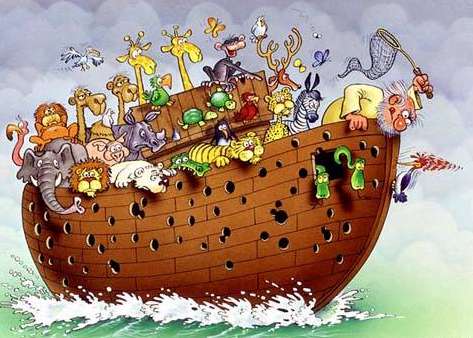 02-26-2009, 01:26 PM
Mark
Member


Posts: 119
Joined: Feb-16-2009
RE: Noah's Ark has little problem :)
Now THAT is cute! Thanks for sharing! In case I'm not her again before tomorrow, I hope everyone has a great weekend! The weather is a little better here in the east this week. Talk to everyone later.

God Bless!

Mark
---
Mark


The LORD is my rock and my fortress and my deliverer;
My God, my strength, in whom I will trust;
My shield and the horn of my salvation, my stronghold.
Psalm 18:2
02-26-2009, 05:02 PM
RE: Noah's Ark has little problem :)
LOL :rofl:
Thank you Marc, glad its warmer there for you and you have a good weekend also

and everyone else too
03-02-2009, 09:45 AM
Mark
Member


Posts: 119
Joined: Feb-16-2009
RE: Noah's Ark has little problem :)
Good morning all!

Well, the snow has hit us again! My sons and I just cleaned a bunch of it from around the house and then it started up again this morning. oh well, such as winter in the East.
I would like you all to pray for me because I am going to be starting a fast on Sunday (3/8). I feel the Lord is wanting to speak to me and is directing me in this. I have chosen to do a Daniel's fast (only fruits, veggies, and water) for 21 days total. That may sound extreme, but I believe that if I do this, God is wanting to bless me and my family.
I did a 10 day Daniel's fast a couple of years ago and it was great. I did very well.
So anyway, I hope you all have a great day. Talk to everyone later.

God Bless!

Mark
---
Mark


The LORD is my rock and my fortress and my deliverer;
My God, my strength, in whom I will trust;
My shield and the horn of my salvation, my stronghold.
Psalm 18:2
03-02-2009, 03:01 PM
milordsheep
Junior Member


Posts: 40
Joined: Dec-10-2008
RE: Noah's Ark has little problem :)
Not extreme at all. I hope the Lord Blesses you and your Family during it.

If nothing else your system will thank you for it.
User(s) browsing this thread: 1 Guest(s)